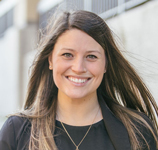 Kailey Dow (she/her)
Kailey is a Marketing Communications professional, who brings a creative and strategic mind and thrives in fast-paced environments. She specializes in content creation, market research and analysis and digital marketing.
Before joining AOR, Kailey spent over 5 years working with J.D. Irving in Saint John, NB. Her focus was on building brand reputation through social media marketing, storytelling, videography and employee engagement.
Kailey loves building relationships with anyone she meets and is always up for a challenge.
Outside of work, Kailey can be found swooning over her one-year-old son, Thomas. She spends her time surrounded by her husband, family and friends – and, when possible, travels to as many places as she can.